Sometime in 1993, a young lady was sitting on a TTC (Toronto Transit Commission) bus on her way home when she caught the attention of Stanley James Tippett. Stanley has quite a distinct look due to a genetic condition called Treacher-Collins Syndrome. His ears look small and stubby, as if they were cauliflowered after years of catch wrestling. The left ear is also noticeably higher than his right. The skin on the side of his eyes are pinched giving them an odd shape. There is something off about his mouth and chin but you just can't place your finger on it.
Growing up with this genetic disease was hard on young Stanley. He grew up in Toronto and the family moved often as a result and teasing that he and his siblings, who were also born with the abnormalities associated with Treacher-Collins Syndrome, received at the hands of kids in the neighbourhood, fellow classmates and even teachers.
One nickname that seems to have stuck with young Stanley was E.T., after the popular movie character. This nickname was not a compliment but rather a term of insult, ridicule and embarrassment.
Stanley was born with this genetic defect so you can't blame him for his physical appearance. What you can blame him for is his actions on that fateful day in 1993 and for what took place in the years to follow.
That young lady exited the bus and Stanley took the opportunity to follow her . Putting his arm around her shoulder, he pointed a gun to her head and directed her to a nearby alleyway. Once concealed from the public eye, he told her to lie down on the ground.
This brave female prevented herself from being a rape victim with her quick thinking and actions. In an effort to try and deter herself from being sexually assaulted, she told her would be attacker that she suffered from AIDS and was currently menstruating. Those reasons were sufficient enough to stop Tippett from violating her that day.
Tippett was arrested and charged as a youth for attempted robbery, a charge that he pleaded guilty to. 16-year-old Stanley explained that he didn't intend to rape the girl. He simply wanted to rob her with his BB gun so he would have money to purchase a gift for his girlfriend Natalie, the girl he would eventually marry and start a family with.
Even his mother didn't believe him. Stanley lied to his mother. He lied a lot.
The Disappearance Of Sharmini Anandavel
Stanley next came to Toronto area police as a suspect in the still unsolved murder of 15-year-old Sharmini Anandavel.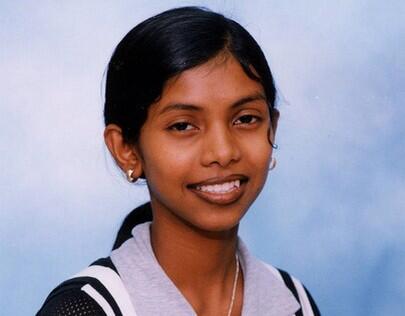 The Woodbine Junior High School student lived with her parents in the same North York apartment building as Stanley Tippett. Stanley was friendly with the family and wanted to help Sharmini find a summer job. Sharmini left her home on June 12, 1999 at approximately 9:00 am to start her new job and didn't return that evening.
Sharmini's parents became worried and went over to Stanley's apartment as he had helped her secure the job. They later learned from the building's superintendent that Stanley had moved to Oshawa at the end of May. Her disappearance was reported and the Toronto Police began their missing persons investigation.
This investigation was upgraded to a homicide four months later when hikers discovered a human skull in Finch East Park, which was a few kilometers from the Anandavel's apartment. A search of the area found further remains scattered belonging to Sharmini. Positive identification was achieved through dental records.
As the investigation progressed, Stanley Tippett became a suspect. Several sightings of Sharmini were reported and investigated. Oddly enough Stanley Tippett was also reported to have been spotted in the same locations despite the fact that he resided in Oshawa. He was questioned several times. His vehicle and apartment were searched but no physical evidence has been reported as being found.
Stanley did an interview with The Toronto Star professing his innocence and telling all who would listen that the Toronto Police were wasting their time and taxpayer's money as he wasn't responsible for Sharmini's disappearance and murder.
During this period of scrutiny many of his lies also came to light.
According to the Anandavels, Stanley often told his neighbours that he was an undercover cop. Their daughter believed she would be starting a job as an undercover drug operative the day she went missing. A search of her room found an application form from a company called "Metro Search Unit". Police investigated the company only to find that it did not exist.
The application form was a fake but they could not determine the source. Keep this fake application in mind as you continue reading this article as a forged application plays an integral role in another young lady's life.
Tippett has never been charged in connection with Sharmini Anandavel's murder nor has he ever been officially cleared as a suspect.
To this date Sharmini's murder is still unsolved. The Toronto Police Service currently have it classified as a cold case and you can read more details about her case file here: Homicide #36/1999
2005 – Not A Good Year For Stanley Tippett
At some point, Stanley and his growing family ended up in subsidized housing in Barrie, Ontario. This lovely city is located north of Toronto on the shores of Lake Simcoe.
Although the circumstances of Stanley's legal troubles in Barrie are unclear, he was charged and plead guilty to criminal harassment of his 25-year-old female neighbour. He received a suspended sentence for this particular offense. If I can locate more details, I will definitely update this section of the story.
The Tippetts next destination was Peterborough, Ontario and it didn't take long for Stanley to get himself in trouble once again.
Stanley had taken a liking to a 21 year old female of foreign descent (as was Sharmini) that he had met at a local job fair. He claimed he worked at the local YMCA and offered her a job on the spot. Tippett took her number and phoned her the following day, asking her to come to his home to fill out the application for the job. She declined at this time but the two continued talking over the next few days.
When Mr. Tippett ran into her again at a local Taco Bell applying for a job, he became angry, entered the restaurant and confronted her about applying there when he had already offered her "employment". At some point Stanley did manage to get an application form in her hand for a position at the Y. He also left a birthday card at her door, something that must have unnerved her based on her limited and somewhat volatile experience with him.
The female contacted the YMCA to verify the job offer only to be told that there were no vacant positions available. They also informed her Stanley Tippett was not in a position to offer her a job nor was he an employee of the YMCA. The application form that she had been given was fake and had been created by Stanley.
Fake job offer. Fake application form. This is familiar to the circumstances leading up to Sharmini Anandavel's disappearance.
Her suspicions confirmed, she contacted authorities to let them know about the situation with her stalker and filed a complaint against Tippett. The local police paid a visit to Stanley's home and searched his van. During this search they found a few interesting items that raised their own suspicions about Stanley's true intentions.
Duct tape. Rope. A knife. A hammer. Long plastic ties. As always seems to be the case, Stanley had plausible although unlikely reasons for having those materials in his van. If there were a "standard kit" of tools for an attempted kidnapping, rape and murder of a young female victim, all of these items would be included in it.
Stanley was charged with attempted kidnapping but after negotiations between his lawyer and the prosecution, he later agreed to please guilty in December of 2005 to a reduced charge of criminal harassment.
During sentencing on December 22, 2005 a judge labeled him a "stalker" and "predator", dismissed his reasoning for those items in his van and was convinced that his actions were premeditated. He was sentenced to two years in a federal penitentiary.
Kidnapping and rape of a 12-year-old girl
Stanley's next run in with the law had much more severe consequences than his previous offenses.
During the early hours of August 6th, 2008 police in Courtice, Ontario were contacted by a local resident who had heard screams coming from the neighbouring high school school property. When police arrived they found a partially clothed 12-year-old girl from Peterborough who had been sexually assaulted. This poor young lady had been drinking alcohol the previous night at a birthday party and was so intoxicated that she couldn't make it home. Her and a 17-year-old friend attempted to make it back to the victim's grandmother's place when a good Samaritan offered them a ride shortly after midnight.
The driver could have been a good Samaritan had it not been Stanley Tippett behind the wheel. Stanley managed to get both girls in his van but eventually dropped the older girl off at a nearby park stating he was taking her young friend to the hospital. Once Tippett had the girl alone in his van, he drove approximately 75 kilometers to nearby Courtice.
Stanley, then 32 years old, fled the scene once the girl became conscious and started screaming. He was eventually arrested in the City Of Kawartha Lakes as he attempted to make his way back to Peterborough. Tippett claimed that he had been kidnapped at gunpoint by two black males during his drive to the hospital, later thrown out of his van and blacking out.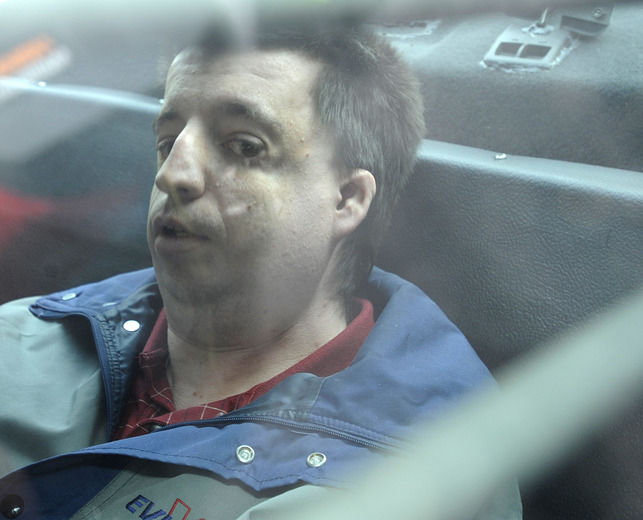 He was held in custody until his trial commenced in August 2009. During the trial many revelations about Tippett's life came to light. Not only did Stanley have a wife and five children, he also had a girlfriend/mistress that had no idea he was married. Tippett had told his girlfriend that he and his wife had split and often slept at his new beau's house.
His girlfriend testified in court that she spoke to her "fiancee" the night of the abduction and could hear a girl's voice in the background. Stanley brushed it off saying he was taking the babysitter home.
Other evidence introduced during the trial included positive identification of the victim's DNA located in Tippett's van, which had been abandoned in a neighbouring city. The DNA was removed from two condoms located behind the driver's seat. Trace amounts of semen were located on the girl's clothing and panties but not enough to identify the male that it came from.
A cab driver also testified that he picked up Stanley 13 kilometers from where his abandoned van was located, which contradicted the details he provided about the carjacking.
In December 2009 Stanley was found guilty on all seven charges, which included sexual assault, sexual interference, kidnapping, dangerous driving, breaching court orders and flight from police.
Dangerous Offender Hearing
Immediately after Stanley was convicted, prosecution began the process of gaining a Dangerous Offender Designation for Mr. Tippett. This designation is reserved for "dangerous violent and sexual predators" and allow the courts to impose an indeterminate sentence.
Stanley Tippett's past offenses were outlined as his pattern of deceitful behavior. He told his mistress that his father owned "Tippett Studios" in California and mentioned that she could work there. Tippett claimed to work for the federal government and was part of the board of directors. That he belonged to a yacht club. He also told her that Natalie (who was actually his wife) was his sister.
On October 31, 2011 Mr. Justice Bruce Glass delivered a 13 page decision that deemed Stanley Tippett a dangerous offender. Glass also gave Tippett an indeterminate sentence, which means he could remain incarcerated for the rest of his life. He is currently serving his sentence at Warkworth Institution.
His January 2016 parole request was denied by the courts.